Agrumes (Les)***
Address

: 2 allée des Filaos Petite Plaine, 97431 Plaine des Palmistes (La)
show map
Location: Plaine des Palmistes
Location : Plaine des Palmistes / Les Plaines

Guesthouse

In La Plaine des Palmistes, Les Agrumes is a small Creole house in corrugated iron.
It has 2 Gîtes de France-approved double bedrooms with the option of adding an extra bed. The rooms can each accommodate a couple and one child.
Facilities and services
General facilities

2 room(s)

Bedlinen included
Compare "Agrumes (Les)***" with similar alternatives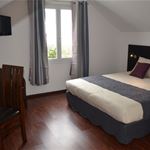 Location : Plaine des Palmistes / Les Plaines Guesthouse Chez Bea, located at approximately 1,000 m above sea level, in La Plaine des Palmistes, in the heart of the National Park, is the starting point for numerous treks and places to visit. Chez Béa has 2 guesthouses labelled Gîtes de France and classified 3 épis (ears of corn). Bedrooms are spacious and attractively decorated, equipped with TV, heating, hairdryer and private bathroom. The living areas are available for the use of guests so they can find out and exchange information about different activities.
The owner offers the rental from 4 nights. The Saint-Alexandre Gîtes de France-labelled self-catering cottage is fully equipped, independent and capable of accommodating 5 people. It is Situated in an enclosed garden in the heart of a Creole orchard (lychees, peaches, citrus fruits, etc.). Kitchen with refrigerator and freezer. Suitable for people with reduced mobility. Sales of seasonal fruits and vegetables on-site. Close to walking and hiking trails: Takamaka, Bassin la Mer, Bassin Bleu, Les Ravenales, Grand Etang, etc.
Location : Piton des Neiges Mountain and Trekking Hostel Refuge de la Caverne Dufour, also known as "Gîte du Piton des Neiges", is an unmissable stop-off for hikers. It contains 4 dormitories and sleep a total of 48 people. The refuge is 1 hour and 15 minutes' walk from the summit of Piton des Neiges. Standing on the roof of the Indian Ocean at sunrise, hikers have views over almost all of the island, the Cirques of Mafate, Salazie and Cilaos, the volcano and a good part of the coastline. Meals available upon reservation 48 hours beforehand. The refuge belongs to the Mountain Gites Managers Association (AGGM).Pets not allowed. Low-season prices. Sheets are not provided. For safety reasons, it is strictly forbidden to camp next to the refuge.