Cité du Volcan : Visite du musée - Billet open
190 rue Maurice et Katia Kraft RN3 - Bourg Murat, 97418 Plaine des Cafres (
show map
)
Category:
Events, Culture
La Cité du Volcan is a leading tourist attraction, but also an international educational and scientific center.
This 6,000 m² infrastructure includes an innovative museum including several structures and interactive models for a fun, attractive and educational visit: 270° auditorium, 4D movie theater, multisensory tunnel, sound effects, etc.
An immersion museum achieved through the use of several innovative and interactive features such as holographic projection, augmented reality, wide "multitouch" surfaces, audio and visual environments ... puts visitors in conditions that reproduce some features of volcanoes, allowing them to feel sensations and experience fully the purpose of the exhibition through innovative and interactive technologies.
Open every day from 9:30 am to 5:30 pm. Ticket office closes at 4:15 pm
Street address 1
190 rue Maurice et Katia Kraft
Postal code
97418
City (address)
Plaine des Cafres
Phone number (booking)
262 262590026
E-mail (Organizer)
cdv.reservations@museesreunion.re
Guesthouse
Distance: 6.9 km
Location : Plaine des Palmistes / Les Plaines Guesthouse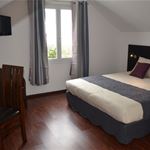 Guesthouse
Distance: 8 km
Holiday rental
Distance: 7.5 km
Loge Les Eglantines chalet with its woody aroma is all about authenticity and comfort.